Next CF Board meeting: Tuesday, Feb.9 at 6:00 pm in the Media Center
Help us raise funds for UCHS's senior Grad Nite!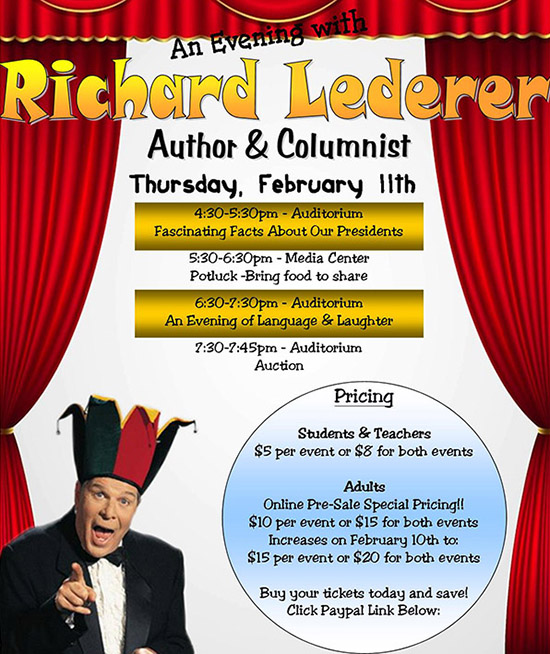 The UCHS PTSA hopes you can make it and that you will share this great event with friends and family. The more people that attend, the more the PTSA can raise for Grad Nite, which provides a safe and sober way for the school's graduating seniors to celebrate their accomplishments.
Click here
for all the detailed information! Prices increase
February 10th!
RSVP today! Here's the link: http://uchsptsa.org/?page_id=1317


The 2nd Annual "Sights & Sounds Showcase
A Musical Journey Featuring Students, Staff & Special Friends
Friday, March 25, 2016
The Lawrence Family Jewish Community Center,
JACOBS FAMILY CAMPUS, 4126 Executive Dr.
Sponsored by the Centurion Foundation/University City High School Music Boosters, this evening will begin at 6:00 pm with an adults-only (21+) cocktail reception featuring craft beers courtesy of La Jolla Brewing Company, tasty bites from The French Gourmet, a silent auction and a special performance by the Phil Marcus Trio.
Theatre doors will open at 7:00 pm and the entertainment will begin at 7:30 pm. The Showcase is for the entire family and will feature performances from students and staff as well as a live auction with our special guest auctioneer, Principal Jeff Olivero. Intermission will feature a gourmet dessert reception.
Tickets are now on sale now! Click here to buy tickets.
Prices for adults through March 11th are $30 ($35 after March 11th) and student tickets (valid for show and dessert reception only) are $12.50. New this year are specially-priced tickets ($20) for UC Cluster teachers and staff; please email uchsmusic@gmail.com for the coupon code.
**Parents: We will have a Teen Lounge open from 6:00 pm – 7:00 pm where your teens can hang and enjoy a pizza dinner for $5 while you attend the cocktail reception. (Please note that NO outside food may be brought into the Teen Lounge).
Email uchsmusic@gmail.com if you will be using this service or would like additional ticket information.  

Centurion Foundation Update
The Centurion Foundation would like to thank everyone who participated in the Membership Drive and Loyalty Card program. The Foundation is off to a good start to meet fundraising goals for the year.
And how are Foundation funds used? The Foundation acts as an umbrella organization for participating sports and extracurricular groups, including providing insurance for Foundation events and, most importantly, keeping up the non-profit status so that donations to each group can be categorized as tax-deductible. Besides the general benefit to groups, the Foundation also provides awards at Senior Night, scholarships, and grants each season.
Starting last year, the Centurion Foundation provided a grant to partially fund the UCHS Trainer. The trainer is available for all UCHS students, not just athletes. All UCHS students have access to the trainer. There are limited funds available to the school for the trainer, and this year the trainer conducts office hours Mondays, Tuesdays, Thursdays, and Fridays between the hours of 2:30 and 4:30 pm (cut down from 5 days, 2 ½ hours last year). Some sports teams pay extra to have the trainer attend their specific home games, such as Football and Lacrosse. These teams pay for the extra hours, outside of CF and UCHS funding, through their specific team fundraising efforts. You can learn more about our trainer at: https://www.sandiegounified.org/schools/university-city/overview-17
The Foundation has pledged funds for the trainer through the UC Spirit Run, held each spring – this year will be our 3rd Annual! Last year, the Foundation was able to net $4,125 which has been pledged to UCHS. All of the UCHS monies received from the 5K event is earmarked for the UCHS Trainer for the use of all UCHS students within the allocated days and hours. In addition, the UC Spirit Run was an avenue for individuals to fundraise for specific groups, and even other local UC schools. A total of $1,369 was raised by individuals. Participants from the other UC schools also benefited from the UC Spirit Run as over $540 in registration fees were given back to our UC schools – they were able to use those funds for various needs, including Running Clubs and PE equipment.
The Foundation aims to continue its mission to supporting UCHS athletics and clubs. If you would like to make a donation towards the Foundation's efforts, please go to:
uc-centurionfoundation.com. Volunteers are always welcome to be on the board, and in particular to help with the 2016 UC Spirit Run. Please feel free to contact any of the board members below with any questions, or to volunteer.
Customized UCHS Spirit Wear
The UCCF spirit gear website has a great assortment of clothing for those who want to show their school spirit!
You can place an order at Shop.MyLocker.Net and create your very own apparel.
Get $10.00 off your next purchase at MyLocker.net by clicking here and getting the coupon code!
The Centurion Foundation is Proud to Support University City High School
The Centurion Foundation of UCHS is a non-profit 501(c)3 organization dedicated to supporting the UCHS Athletics Departments and Clubs, students and families.
Our primary mission is to enrich our children's extra-curricular activities by your vital tax deductible donations.
We need you! There are two ways you can help: 1) Join the foundation or 2) donate online. Both ways support our UCHS clubs and athletics!
You can support UCHS and the Centurion Foundation's mission to enrich our students extracurricular activities by becoming a member of the Foundation.
Donations of $100 or more receive 2 adult and one student pass (students under
age 10 are admitted free) to regular season home football and basketball games.
Click here to fill out the form and mail it in today!

EIN: 33-0073915
Or, you can donate using the PayPal Option below.
Centurion Foundation 2015 - 16 Board Members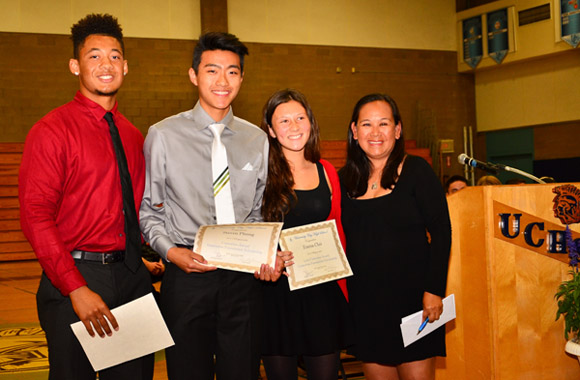 Congrats to the Centurion Foundation 2015 Scholarship Winners:
Coach Al Wilson - Dominic Lewis
Centurion - Steven Pfung
Lady Centurion - Emma Choi
Support the Centurion Foundation through eScrip

eScrip is proven to be a fantastic resource for fundraising where participating business partners contribute a percentage of your grocery loyalty cards, credit card, and debit/ATM card purchases to the school, group or organization of your choice.
Here's how it works:
Register any one or all of your existing grocery loyalty, debit and credit cards for use in the program. Participating merchants will make contributions to your chosen group, based on purchases made by you, just by using the cards you have registered.
Our group name and number is: Centurion Foundation of UCHS
ID number is: 500023906
Please sign up to support the Centurion Foundation. Every little bit helps!

The Centurion Foundation is a Silver-Level GuideStar Exchange participant, demonstrating a commitment to transparency
EIN: 33-0073915


Connecting charities and nonprofits With Tools, Volunteers and Resources